Coleman Stories
Almost everyone has a Coleman® story. It may be a childhood memory associated with a certain Coleman® appliance or finding a family herloom tucked away in the back of the garage.
People have been sending me their Coleman® stories for almost twenty years and they are always heart warming. I never get tired of hearing about grandpa's old lantern coming back to life--that is why I built this website in the first place.
So I've decided to share the stories and give them their very own place on the site.
If you'd like to add your Coleman® story, please send an email to info@oldtowncoleman.com. Please note that I reserve the right to edit stories as necessary.
---
---
I have a model 228D (1949) originally purchased by my grandfather who used to use it when he fished on Lake Erie. He gave it to my father, who used it during our family camping trips, then I got it from him and used it on my own family's camping trips. It has a huge sentimental value here. Just the sound of it makes me smile and dream of days long ago. It has had minor rebuilds over the years, but recently developed a leak somewhere in the valve stem.
Your site helped me a great deal in rebuilding this old fella. Tons of detailed description, good photos, sound advice. We are up and running. Sure hope that Coleman continues to provide parts. It's amazing that they still do, actually. Anyway, thanks again for doing this labor of love. The rest of us old tinkerers sure appreciate it!
My kids (now in their 20s) also have a place in their hearts for "grandpa's lantern," and were happy to see that I got it running again. My brother-in-law has an ultrasonic cleaner and he did the tube cleaning for me. Truly a family affair!  These lanterns are a link to the old days, old technology, and old folks that seems to help calm the frazzled nerves of today. 
Jeff B.
---
When my parents & I first started camping, it was in a cotton canvas umbrella tent, pinned-together blankets, & a Coleman 425C stove, all hauled in a 1957 Ford Fairlane. My parents, the tent, & the Ford are all gone now, but my family of four used the  Coleman to cook most of our meals on a recent week-long trip through Colorado, Wyoming, & South Dakota. It looks a bit disreputable, but with the info from your site, I'd like to make like nearly-new again.

I had several other white gas Colemans...the Peak 1 compact stove and matching lantern, which I used for camping & Army field exercises. They were killed off by Desert Storm. Stove fuel/white gas was unavailable, so I was forced to use Army "mo-gas," which is a mediocre grade of auto gas. That, plus the fine grit of the desert was their death-knell. With regret, they were tossed into a burn pit in the Iraqi desert just before I rotated back to the States.

Thank you for your informational website.

Rodger M.
Master Sergeant, US Army (Retired)
---
When I was growing up, camping was a family recreation we all enjoyed,
so we did it often. I remember the old 220E that my Dad always took
with us and the smell of the Coleman fuel as it lit and the soft hiss
of it lighting up the evening camp.
Anyway, 30 years later, I was in his garage sorting through things after his passing and came across that old 220E. It was in a state of disrepair, which Im sure everyone here knows what I mean, so I decided I was going to resurrect it. I
spent hours tinkering with it, because frankly, I knew nothing about them. But I am very mechanical so I eventually got it figured out and running smooth. Then came the fettling, a term I didnt know anything about at the time.
I enjoyed doing the whole project so much that I found another one at a garage sale and bought it, I think for about 5 bucks and found The Coleman Collectors forum online while working on it, and with the help of those wonderful members, I resurrected another. Since then I have found several sites full of wonderful
Coleman and other GPA people on many sites including this one and have
had the priviledge to help other newcomers to the art of resurrection
of these industrial masterpieces.
I now have my personal collection which are my favorite pieces. And I have a hundred pieces I saved just to keep them from the junk pile that I sell to people that truly want a piece they can count on for another 50 or more years. Although I
guess everything has a price, I dont typically sell my collection pieces, but money talks, there is one piece that cant be bought.
Dad's old 220 E. That piece though started an obsession with keeping the old alive and my time spent with him alive as well. There are many nice new models, but nothing compares to the old workhorse lanterns. I have many from the teens and 20's of the last millenium that I still break out and fire up to show off a bit, but also to educate the younger people how well product used to be made.
Donald B., Punxsutawney Pa
---
THANKS OldTownColeman!
I have an old Coleman gas lantern. Using your site, I was able to identify the model & the year of manufacture, and identify the part numbers for the parts I need to get the ol' girl back into service.
Oh, for what it's worth, the lantern I am working on is a model 200A, all red, with a manufacture date of 1962. Again, THANKS! You are a Life-Saver!
Jim J.
---
I just want to say thank you! I had questions about it so I searched and found your very detailed site.  Maybe I need parts.
Yesterday I wanted to see of the old stove worked. Cant' recall the # or year right now,  I had not lit it in maybe 5 years. I apparently flooded it.
The tank was emptied back then so I put new fuel in. No leaks. Pumped it up a little. No leaks. I l wiped it down a little. it is clean, just rusty. I looked in the burner tube and it was clean.
I assembled, checked the second burner was closed.  turned the tip cleaner up, down , up..opened the valve and I heard hissing, so I knew it was sending fuel.  I closed the valve and got some matches. At first it wouldn't light.just a little minniscule bit around the burner then it would go out.  I turned it off. pumped more tried again, i guess i opened the valve too much, not all the way, and got a flare up! woa! Put it away and now I am reading your site!

I will do my reading and try again tomorrow. I wondered how the burner assembly is made. Your info was great!  I doubt they have been replaced as I have had the stove for about 26 years. Free find at the dump!  It has not had a lot of use by me. Maybe 4 or 5 times a year from 1991-1995 and a handful of times since 2000.

The screws on the burners will not budge (large screw slots!) so I need to put parts blaster or something on them, get the bigger screw driver if I am to take it apart.

I think it is fine, I just  flooded it. I will blow it out and use your steps and see how it goes. I will use a long fireplace match just in case.

I loved the stove back then, I am going on a camp trip and wanted to use it. We have a 2 burner propane stove that is fairly new, and may use that instead.

I like the Coleman fuel stove because I have an old lantern that works great and then I do not have to buy propane.

If I get time and remember I will send you photos.
Thanks.
Diane D.
---
Hello,
I wanted to reach out and thank you for your Old Town Coleman website. We just went through hurricane Irma, and relied on our old Army-surplus Coleman lantern for light. Unfortunately, the lantern wasn't working properly, but we were able to fix it up with the manual you had on the website.
Thanks for the time and effort you've put into this resource.
Sabastian Z.
---
Frank, Thank you for your help on the Coleman 3F stove. I had soaked the old pump cup in 3 in 1 oil and that didn't work, so I turned it inside out as per your tutorial, and put it in motor oil... works fine, but I should get a new one.
Was able to get the check valve out with PB Blaster and it is good. I cleaned the valve, fuel and air tube, generator, needle and tip. I was not able to get the spring out of the generator tube. The needle is slightly loose, but works. I don't imagine there is a replacement available. I left the packing alone as you said it may not be available and looked good.
I took the burner plates off and cleaned them, but they were fine. They are cast iron or steel. The tank had a lot of crud in it after 90 years and took about 30 flushes with hot water.
Got my 70s vintage Optimus 99 going again too. Anyway, I made breakfast on it this morning. Might get a 220J195 Lantern with box and manual off Craig's List for $25 Want back up for my propane one.
Thanks,
Gary R.in CO
---
Hi, Just getting to the world of COLEMAN lanterns. Though having them around growing up,I never gave a second thought to ANY of them. My Dad was in charge of all that. Aside from "Go pump that lantern up some more boy" I never had any doings with them.
Now that you know my life story..I recently recieved 2 200a as gifts. I am sure they were only 5 bucks each. One turns out to be from 54. Thanks to info found here. What I have discovered is it is not holding pressure. Again, with info found here, I worked over the pump assy. Still not holding. It is GETTING the pressure,evident when I open the cap and pressure is vented. I was wondering about the "valve" in bottom of pump and how it may come apart to clean out. This is where I think the issue is as the pump area was full of ... and dirty. I cant really tell from parts list explodes how it operates. But those diagrams area helpful so far in identifing part #s and names 
Thanks for the site,it is very informative and helpful..Hope you continue to develop it.
Jim M.
---
I own several Coleman Quicklite lamps, but only a couple that are old enough to be undated, and have the fiber wheel on the valve. I was talking to my GF's mom with my GF on video chat while I was doing some polishing on it. Anyway, her mom is in her 60's and said about being afraid of the gas lighting because she thought they were dangerous. I assured her her they are not as bad as you would think, but its open flame does require some caution and that there are people still usiing them everyday.
We live near an Amish community so I still see them being used a lot. So I lit it for her and during the course of the preheating we were talking and when the flame settled down and burned properly, I started turning the valve wheel while chatting. Low and behold I wasnt paying attention and screwed the valve wheel clear out and it literally came right out of the valve while I had it burning.
Which wouldnt have concerned me a whole lot, and I would have enjoyed the flamethrower quality result, had I not been in my dining room with the lamp on my table!!! Needless to say, it was a hair raising experience. After I got over the initial shock, I had my GF open the door and carried it outside, quickly, and let it burn it self out. But having a flamethrower in my house was a lesson learned.
For whatever reason the valve wheel didnt have a stop on the stem so this wouldnt happen. So I put one in it. It may be the way these were produced, but it is the only one I own that I had to put a stop in. SO before you fire these up, check to make sure the valve has a stop in it.
I dont think I will ever convince my GF's Mom now that they are> fairly safe, but I still burn them all of the time.
Donald B., Punxsutawney Pa
---
Hi, Just wanted to thank you for your time invested into this page. 
Being "old" and growing up with lanterns and stoves etc..I am just new to collecting them . I know from watching my Dad curse and yell at them how to solve alot of little issues and make them work as they are supposed to. BUT for more "advanced" stuff I had no clue. With help from your sire I have been able to "rebuild" (and identify) a couple older lanterns found for nothing at yard sales.  I look forward to the progressing info contained.
Thank you again, Matt
---
Hello,
I had bought a Coleman Peak 1 model 400-499 during my mid-late twenties (shortly after the Falklands war). I had taken it with me across Western Europe while travelling lean and mean during my late-thirties early forties. Then it sat in a cupboard untouched for many years.
I pulled it out recently, filled it with some Aspen petrol, and started it up. Amazing, after nearly forty years it runs just as it did when new.
Your web site is a valuable resource for Coleman users.
Regards, David L.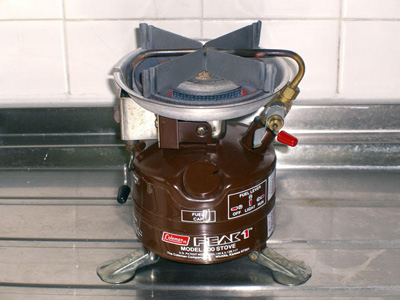 ---
Hello,
My name is Mark and I live in Temple City, CA. Oldtowncoleman.com is absolutely AWESOME!!! You enabled me to rebuild my 1960 228E Coleman lantern with precise, complete, step-by-step and easy to understand instructions, tips how to avoid mistakes and accompanied with exceptionally great color photos. That combination will afford anyone with basic mechanical skills and tools the ability to rebuild their treasured Coleman lantern. Don't be surprised if your rebuilt lantern seems to shine brighter than it ever has before, actually or perceived!
A side benefit of rebuilding your lantern is acquiring a precise knowledge of how all the individual parts function together and afford operational and performance insight unavailable anywhere else.
I was given the lantern about 10 years ago. Lacking any operational instructions and with very little persuasion (yet a few learning mistakes), if fired-up and performed very well for a number of years on our yearly family trips to the Eastern Sierra. We all immediately noticed how much nicer the light from the old lantern was compared to the modern propane-canister units. Yes, the old ones require pumping now and then, but the nostalgic ambience is well worth the effort.
My lantern sat unused for the past 3 years so I decided to add oil in the oil hole of the pump; but ignorantly WAY TOO MUCH! It fouled the fuel and "jets" to the point it would not work properly. Almost very thing had to come apart to be de-oiled. But prior to over-oiling, everything was operating just fine. Hence, I did not replace anything, just a thorough cleaning. But EXTREME CARE must be taken for the delicate parts, especially the "tip cleaner" as well as others.
Allow me to add one thing; "Insta Clip" mantles are junk! Try to purchase the old style "tie-on, string" mantles. At least with my 228E, the insta-clip mantles do not fit snugly on the head of the manifold, allowing gas to escape where it is not supposed to, possibly causing excessive heat and fuel usage.
The lantern is back in its full glory affording us with an appropriate ambience yet more than plenty of light for our campsite. Additionally, I NOW KNOW EXACTLY how to operate it to its full potential!!!
THANK YOU, OLDTOWNCOLEMAN.COM!!!!!!!!!!!!!!!!!!!!!!
Mark T.
---
---