Welcome to the Old Town Coleman
Spit & Whittle Club
The place to brag about your stuff!
It might be dad's old lantern or grandma's special Coleman® lamp. It could be a lantern you bought 30 years ago or your first one that you just bought. Some things are just special.
The following photos have been sent in by good folks who are proud of their lamps, lanterns, stoves and collections, and they'd like to show them off.
If you'd like to join in, please send your photo(s) and story to info@oldtowncoleman.com.
Enjoy!
---
Mike Denny has been at it again--this time he sent in these awesome photos of the 220F he brought back to life:
"I wanted to show you my latest effort at a restoration of this 220F. After receiving this from an online auction, I set it in the trash can and stared at it for a week, deciding if I really wanted to tackle the job. Bought it for $11 and probably paid $10 too much.  

Anyway it turned out pretty nice."
I agree! Great job Mike.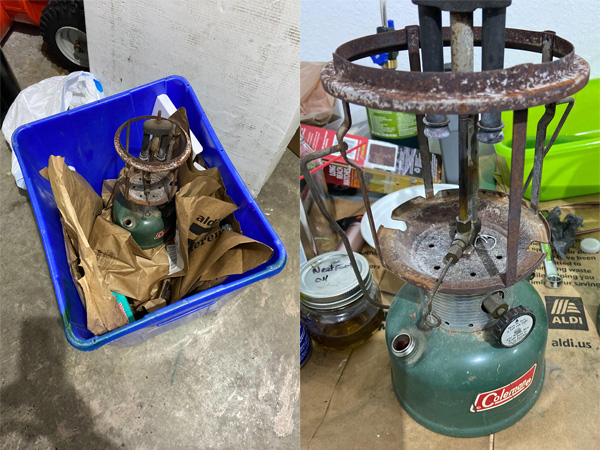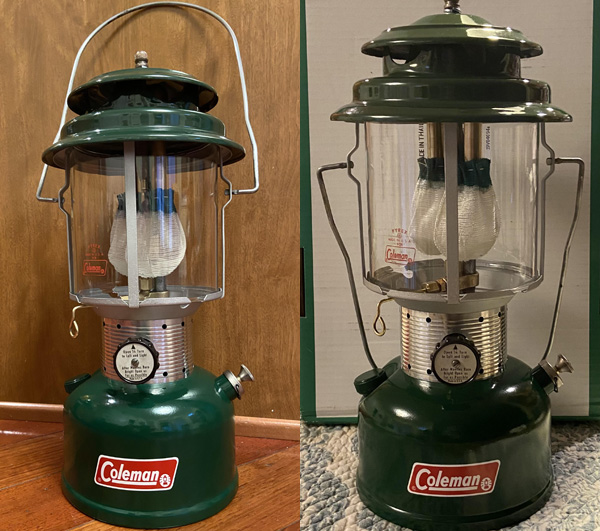 ---
Casey Ford sent me this photo, along with the heartwarming story of how it came to be:
"I got this memorial tattoo about 3 years ago when Dad passed. Dad had given me his old 228 lantern when I was 18 (I'm in my 40's now). He gave me that lantern along with a great love of the outdoors and all things wild. I have many great memories of deer and elk camps, camping trips and family reunions hanging out with the hissing of lanterns in the background.  Now I'm sharing these same experiences with my kids. I found your site in an effort to rebuild an old 220 I picked up at a antique store. Unfortunately the 228 my dad gave me was stolen on a recent hunting trip in Montana. I'm loving your website and your YouTube channel. Thanks for all the great info, glad to see so many people enjoying these old lanterns and stoves. I almost forgot about the stoves. What would camp be like with out a Coleman stove? Be some sad hungry folks I guess. Anyways, thanks again.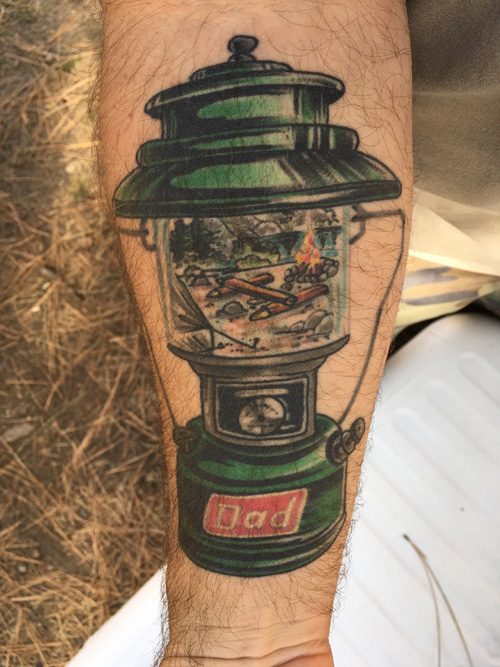 ---
Mike Denny did an awesome job cleaning up this rescued 200A:
"I've always been a fan of the Coleman lanterns and stoves since my parents first took me camping at age 9. My father had what I believe was a 220E. He showed me how to fuel it, put mantles on it, prep the mantles for use, light it, and most of all stressed safety, safety, safety. After a bit of practice, when he was convinced I could follow his guidelines, he made me the family "lantern keeper". While I never collected them, now in my early senior years, I have renewed my interest in camping and have started to acquire a few lanterns. The newer models are ok and I have a couple. Recently on a camping trip to a park near where I grew up, my brother in law gifted me what he called a "rescue" lantern. It's 37 years old and I'm guessing it sat in his shed for 25 years. By watching your 3 videos on restoring the 200A, I was able to bring it back to life. I am grateful to you for that gift.
Thank you for the kind words Mike and great work!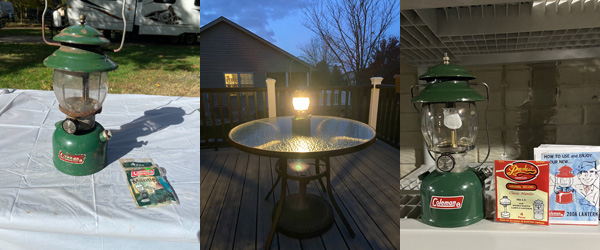 ---
Charlie H had a 1952 Coleman 252A that had rust issues. After much work, he found that the rust would instantly re-appear inside the fount after cleaning. As he said, "I managed to solve that issue by rinsing with distilled water and baking soda after the vinegar soak. I also switched to apple cider vinegar soak and then a ton of BBs to remove rust which did the trick. Tank is spotless now and lantern seems to be running fine."
Thanks for the tip Charlie! He also cleaned up a few other lanterns and was kind enough to send me the photos. Great work eh?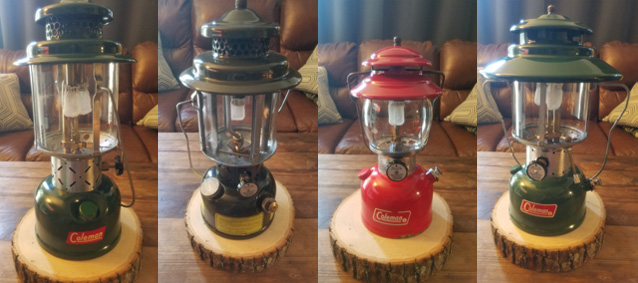 ---
Burns R. was having a heck of time lighting his 220E, even after cleaning it all out and replacing the generator. In his words, "I disassembled everything and took a closer look. Turns out the tip cleaner body was distorted from someone taking it apart incorrectly in the past. You can see in the attached photo that the opening is oval-ed and while the tip cleaner would screw in, it would bind a bit. I think air was being admitted in around the threads, thereby altering the fuel/air ratio. I also noticed some fuel moisture around the threads when I over-pumped the fount in an attempt to light it off. I bought a used tip cleaner body online, installed it and it lit right off as it should."
Burns saw the issue and understood what was wrong. As you can see in the 2nd photo, all turned out well...very well. Looks great Burns!
---
Some people have all the luck! Ben U. sent in this photo of a 425 stove he found at a yard sale, complete with all the original documents. Wow what an awesome stove Ben!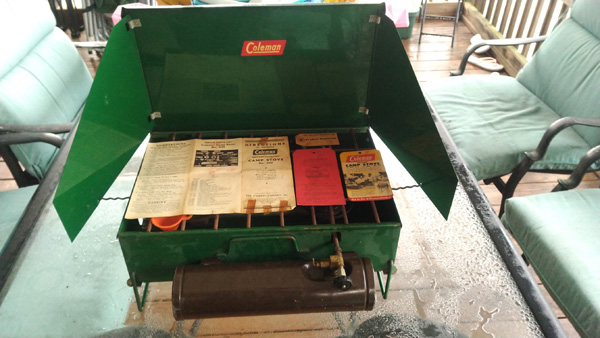 ---
Bill B. sent in these photos of his Camplite LRL21-B along with this note: "I don't know what the protocols are for a non-Coleman lantern, but thought I would send it along.  I picked up this little Kamplite LRL21-B a while back because it was different.  It wasn't in terrible bad shape but everything turned and it cleaned up pretty well.

From what I've been able to find, these models were made between 1956 and '59 (I was made in 1958). I didn't have to replace any parts other than the missing globe. 

Here is a before and after photos."

Very cool Bill and thanks for the photos!
---
Our newest collector/helper, Tom F. of Saratoga Springs, New York sent in these awesome photos for addition to the Spit & Whittle Club. Thank you Tom, we sure appreciate it! The shadows are very cool.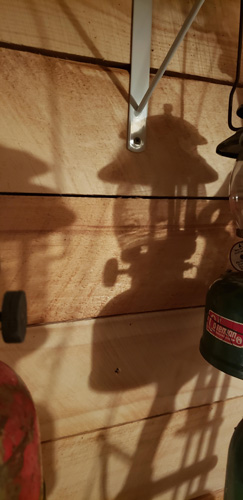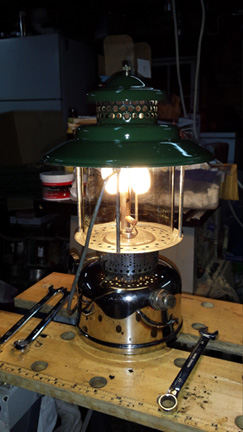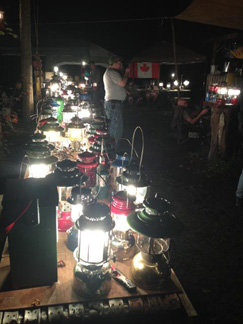 ---
Brian D. of Bloomington, Indiana was having minor issues with his stove but all was well after he replaced the check valve. He took his family camping and used the 428 stove he had received 15 years earlier as a Christmas gift. He hopes his young boys will someday use the same stove with thier families. Based on that incredible breakfast and the smile, I'd say it's a done deal.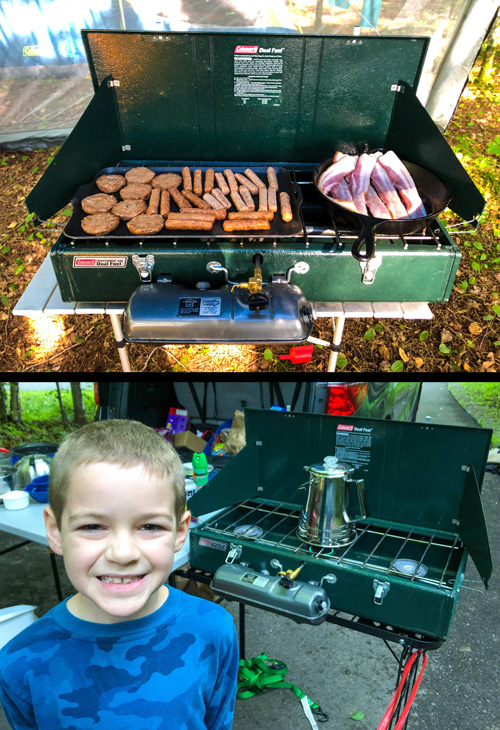 ---
David H sent in this photo and a quick note:
"This is me with a few pieces from my running collection. I put on a little class for a Tin Can Tourist vintage camper rally that my wife, Beth, was hosting. Just a basic how to class for people new to Coleman. The rally was held at The Ciderhouse Campground in Bouckville NY."
Thanks David, we love vintage campers!
---
After watching one of my videos and seeing me explain the differences between the pre-1963, 1963 to 1970 and the post-1970 fuel filler caps, a gentleman from Canada pointed out that Coleman Canada did it quite differently: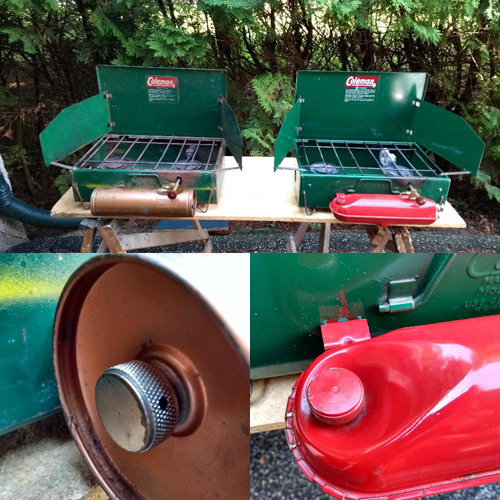 Hi Frank, here are my 411 and 411A stoves, respectively dated 1-64 and 2-65. The 411 is, to my knowledge, the first-ever Coleman GPA, Toronto and Wichita combined, to feature a one-piece cap, although this has to be confirmed by Coleman historians. Obviously, this one-piece non-Plamann cap is a short-lived transitional item.
On Terrence Marsh's website, there's a photo of Agostino Del Coro's new, unfired 411A with its original one-piece filler cap, which leads me to believe my 411A's red cap is the original. The reason why Wichita waited until 1970 to put the one-piece cap on their GPA's still puzzles me.
Strangely enough, my 1-70 Canadian 200A came from the factory with a 3-piece cap. Go figure...
Alain C.
St. Hyacinthe, QC Canada
---
I have met some incredible people in this hobby, and one of the finest was Mr. Mark Baldwin, shown below (center) at a Coleman convention in the early 2000s. Mark and I got to be very good collector friends, and he was a frequent visitor to my website and parts department. I was saddened to find out earlier this year that Mark had passed away.
The good news is that his son, Mitchell, is now active in the hobby and has started down the road of Coleman addiction. He has his dad's model 237 lantern and is rightfully very proud to own it. As I write this, Mitchell is in the middle of his very first lantern rebuild, a 228B he found not long ago. Good luck and we can't wait to see it running!
---
Stephen P of Fort Worth, TX sent in this photo of he father's 425F from 1983. Beautiful stove Stephen!
---
A gentleman sent me this photo of a really neat 220E lantern with a military burner conversion kit. It was made in November 1954 and has a very unique paint scheme.
---
Steve J. of Huntington Beach, CA sent in these photos of the 220K lantern that he bought new in the early 1980s. Just as beautiful, all these years later!
---
David H from Hamilton, NY sent this photo via Facebook, asking what year it was manufactured. Thanks to help from the members it was determined to be from June of 1963. Just beautiful.
---
Adam G sent this tongue-in-cheek photo of his beautiful living room in response to a hanging outdoor lantern photo posted on Instagram by Coleman USA. Wish I could hang lanterns in my living room...
---
Chris C from Santa Clarita, CA posted this lantern hanger photo via Facebook. Very unique and oh-so cool.
---
Crystal H of Arlington, WA is one of the nicest people on the planet, and one of the best photo stagers of all time. She posted this one to Facebook for Thanksgiving of 2019.
---
Some folks have all the luck. A second submission by Chris C of Santa Clarita, CA, who found this mint 220K (born in February of 1980) in a clamshell case, along with a "My Cookin Buddy" lantern cooker. It won't boil coffee, but it will keep it hot! What a super find.
---
Carl emailed me about his 242C lantern that his father had bought when it was new. He wanted to show me that the nickel-plated 242C was built in 1941, because my info listed the lantern's production starting in 1942. After a few emails, Carl showed me the beautiful Fitch & Abercrombie box the lantern came in. What a fantastic family heirloom.
---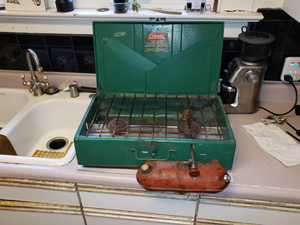 This photo was submitted by Calvin A, who noted that the tank on his 413G stove did not fit well because someone "installed" a 426 tank on it. Clever ingenuity I say. The previous owner needed a working stove so he or she re-cut slots in the 413 case to adapt the 426 tank. It is amazing what lengths people will go through to make things work. Calvin decided not to use this stove as he found an unused 30-year-old 425F stove and a lightly used 413G from 1966 instead.
---
---