How to Prepare a Lantern Mantle
Need a quick refresher? Remember to perform your preventive maintenance before you install the mantle. There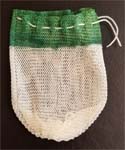 is nothing more frustrating than poking a hole in a brand new mantle, knowing that you should have changed the generator first!
1. Tie a single knot in the mantle strings and pull them taut.
2.  Use your finger to re-open the closure a little bit.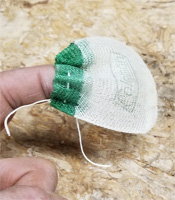 3.  Place the mantle onto the groove of the lantern burner cap.  Pull the string ends again to snug it tight. Ensure that the string sits squarely in the groove.
4.  Rotate the mantle so that a flat side is closest to the generator.
5. Tie a second knot in the mantle strings and pull it tight.
"RADIOACTIVITY IN MANTLES IS SO LOW THAT THE LANTERNS AND MANTLES DO NOT REQUIRE SPECIAL RADIOACTIVE STORAGE OR HANDLING." -The Coleman Company, Inc. January 1997
6. Snip the ends of the string off. If you don't, they will probably poke a hole in your burned mantle.
7.  Apply a match or lighter to the bottom of the mantle and ignite it.  Ensure that all of it burns.
8.  Allow it to cool before lighting the lantern.  It is very fragile so don't touch or disturb it.
Did you find this information useful? Click here to support the Old Town Coleman Center with a cup of coffee!
---
---