Welcome to our list of the
Best Coleman® Sites
I searched high and low, and these are my top picks for the best Coleman sites on the web.
If you own/operate another site or group that I don't have listed and you would like to see here, please email me at oldtowncoleman@gmail.com and I'll take a look.
---

The Terrence Marsh Lantern Gallery. By far, the best Coleman reference site available. Dr. Terry Marsh has been documenting and cataloging pressure devices for over twenty years and his website is full of information and eye candy. If you ever need to reference what you have found, this is the place to do it. Find it at www.terry-marsh.com.
---

D&D LanternWorks hosts my favorite Facebook group, "Coleman & Non-Coleman Lamps & Shades Discussion Group". An exceptional resource for information along with advice from two of the most knowledgeable collectors in the hobby. As it says in the description, you can "ask questions about history, operation, restoration, or just about anything else lamp or indoor gasoline and kerosene lighting related." A must for any type of lamp collector. This is also where you can find the Guide to Coleman & Non-Coleman Lamp Shades here. Find it at www.facebook.com/ddlanternworks.
---

The Coleman Company, Inc. website lists safety and recall information, where to send your lantern or stove in for their Flat-Rate Repair Service ($55) and more. Find them at www.coleman.com.
---

Old Coleman Parts is the place to find new, NOS and reproduction Coleman® parts. Find them at www.oldcolemanparts.com.
---

The International Coleman Collectors Club, Inc. (ICCC) is the primary organized club for collectors. They host an annual convention and have numerous chapters around the world. A single membership in the club is $30.00 (USD). Find them at www.intlccc.net.
---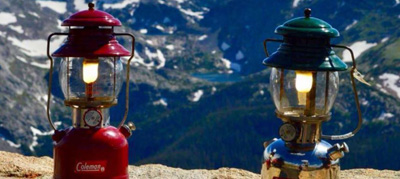 Another of my favorite Facebook groups, Antique & Vintage Coleman Lantern & Stove Collectors is a very active public group with lots of knowledgable folks and great photos. Find them at www.facebook.com/groups/122312681132381.
---

The Classic Camp Stoves bulletin board site is an great source of information for all makes and types of old stoves. Their sister site, Classic Pressure Lamps & Heaters, is similar in format and usefulness. You should definately bookmark both of them for future use. Find the CCS website at www.classiccampstoves.com.
---
---