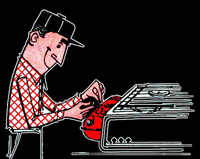 Safety with Stoves and Burners
A quart of gasoline within inches of a ring of fire—what could possibly go wrong? 
These safety pages are provided as a supplement to the manufacturer's safety instructions located in your Owner's Manual or User's Guide.  If you do not have this document, please check here to download and print one.
Here are a few tips to help you and your family stay safe with stoves and burners.

1. Think safety, and where is your fire extinguisher?
2.  Always inspect the stove before you use it, even if it was just yesterday.  Look for damp spots on and under the fuel tank and test the function of each control. 
3. Don't attempt to light it if you don't know what you are doing.  If you have never lit a stove or have forgotten how, please read your Owner's Manual or click here for a quick tutorial on how it's done.
4. Stoves have large air passages that are an open invitation to spiders, bees and other insects seeking a home. A blocked air passage can also stop fuel, which results in a big puddle of raw gas getting trapped inside the stove burner. This is why stoves catch fire and users are "engulfed by flames" so easily.  Keep those air passages clean.
5. Do not over-pressurize a stove prior to lighting.  
6. Never light a stove inside your home, cabin or tent. Do this outside and in an area where a defective part or "operator error" won't be disastrous.
7.  Never attempt to remove the fuel tank from the stove while it is burning.  Turn the appliance off and wait at least 5 minutes before doing this.    
8.  Never loosen the fuel filler cap while the stove is burning.  Turn the appliance off and allow it to cool before removing the tank and re-fueling. 
9.  Always place your stove on a solid surface and away from unsuspecting fingers when in use. Even the sides of a stove can get very hot.  Protect those that cannot protect themselves.  Keep appliances and fuels away from children and pets. 
10. Always maintain proper ventilation. Appliances need oxygen and so do you.  If there isn't enough to go around, you'll lose.
---
---